Recently, as part of my volunteer efforts at the Mandel JCC, I served on the special event committee for "Saturday Night @ The J Come Party Like it's 1989." In addition to crafting a fun and eventful night out, the event had a pivotal chartable component to support the JCC's extensive children and family programming.
Knowing my volunteer efforts went to support a great cause, I happily pounded the pavement rounding up community support in the form of donations. I also felt fulfilled in another respect, as the mere mention of the 80s stirred up many a remarkable memory for me.
Apart from maybe two others on the committee, I primarily experienced the 80s as a teenager, and it's an era that I will always carry with me. Not only did the 80s represent a pivotal time of my carefree youth, but also it captured a simpler time replete with authentic optimism.
Perhaps my youth and naïveté contributed to my irrepressible enthusiasm at the time. But it's also possible that there was something in the air, and certainly the music, that inspired joy. So many songs come to mind that typify the time and that sentiment for me. For the sake of brevity, I will only mention a few… Culture Club's "Karma Chameleon," Cyndi Lauper's "Time After Time" and Prince's "1999."
Classic 80s John Hughes's films such as Sixteen Candles, Pretty in Pink and Ferris Bueller's Day Off also arguably captured the collective unstoppable mindset of generation X.
Given I rocked 80s fashion for real, as they say, I wasn't keen on getting a costume for the event. Rather, I wanted to put something together that would channel my inner teenager. So, I went with a 80s tomboy/funky/Madonna inspired-ish look. Translation: I cut up a plain white t-shirt so that it would be off the shoulder, and paired it with baggy jeans, a blinged-out belt, and Adidas Samba. To add a dose of color, I scored a florescent pink bra at Target (the strap showed given my off-the-shoulder T) and neon green socks, thanks to my son.
As part of this process, and with permission, I usurped my husband's jeans so I could pull-off the boyfriend look. But, the baggy jeans alone didn't cut it for me, so I decided to embark on a DIY project and distress the jeans. Thanks to Pinterest, my Microplane grater, and some elbow grease, my jeans came out, to invoke a 80s term, totally awesome!
I also managed to replicate one of my old standby hairstyles, by tapping into my teasing skills and creating a half-up do with a poufy crown. Make-up wise, I amped up both the color and the volume to capture the inverse of "less is more" that typified the epoch.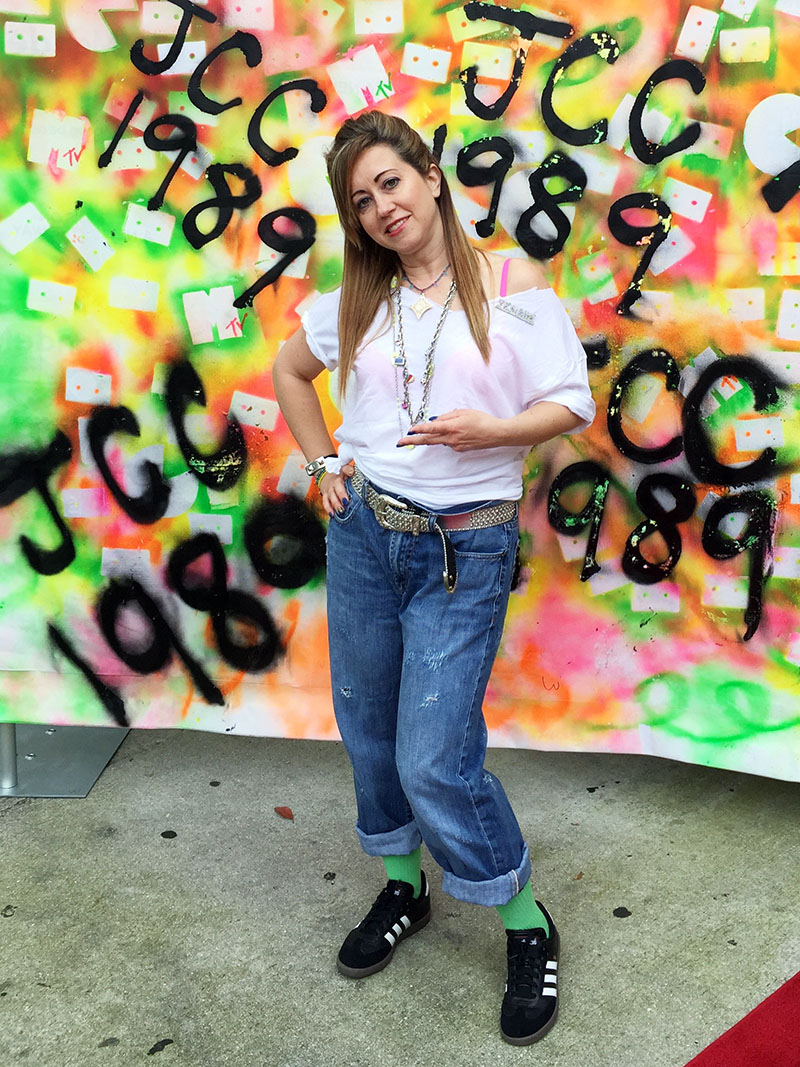 Committee members went above and beyond to create a legit 80s vibe at the venue. Many attendees came in character, notably Richard Simmons, Robert Palmer (of course, with a Robert Palmer Girl), Ferris Bueller (along with many Ferris Bueller references) and Slash to name a few. There were many great photo ops as the event featured both a roaming photographer and a photo booth, which evidenced the success of the night.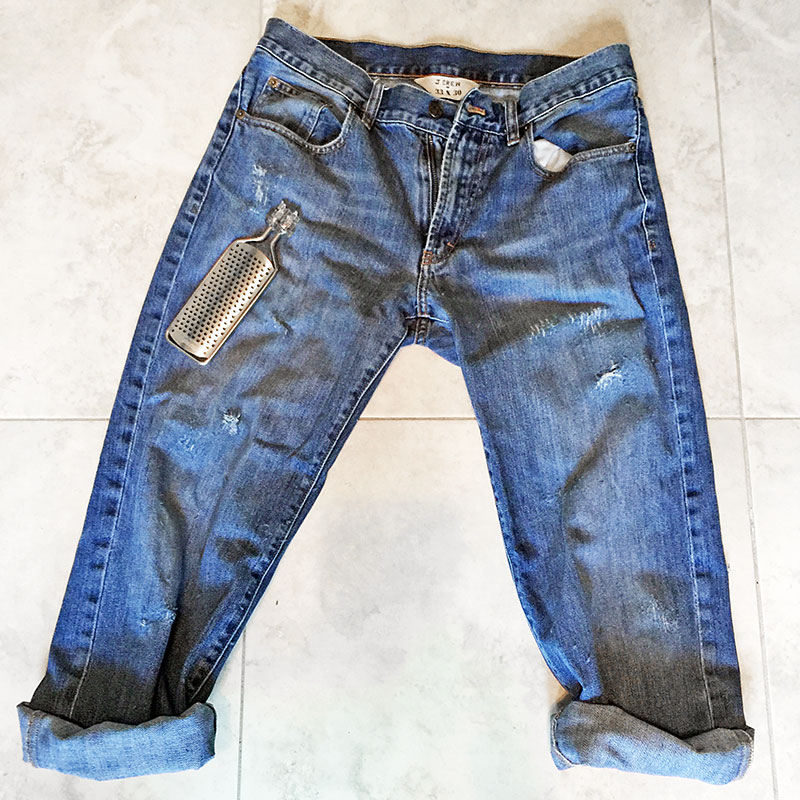 Of course, the DJ's play list reflected the era, with some key 80s favorites, including Journey's "Don't Stop Believin'" and Def Leppard's "Pour Some Sugar on Me." As an extra fun and spirited element, a group of us broke into a Flashmob to Young MC's "Bust a Move."

The overall theme played out swimmingly and for those of us who remember, I leave you with this iconic 80s pictorial reference.